Edith Bolling Galt Wilson
Wife for a Crisis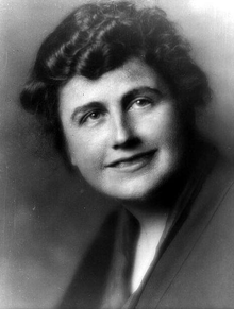 By Anne Adams
For a few months in the earlier part of the 20th century, Edith Wilson occupied an unusual position for a First Lady when her husband was incapacitated with a stroke. While she described this as her "period of stewardship," critics were sure she had actually assumed total control of the presidency. Indeed, it was an unexpected role for a lady who just a few years before had been a middle aged widow who fell in love with a love struck ex-professor who just happened to be President of the United States.
Edith Bolling was born in Western Virginia in October 1872, the daughter of a successful, popular lawyer/judge and she grew up in a richly cultured environment with loving attention from parents and grandparents. The Bollings were proud of their family heritage and particularly of their descent from Pocahontas.
After a home education Edith as a teenager attended a female academy but it was an unpleasant experience because the management spent so little in food and heat that after a year at the school it took her a year to recover. After another year at another school she went to live with her oldest sister in Washington, who had married into the Galt family. One of the family was a cousin named Norman Galt.
Norman's father owned a fine Washington jewelry store and Norman was set to take over the business and though he was only nine years older than Edith he somehow seemed older because of a stuffy formality. He was obviously smitten with her and she was fond of him, and after several years of courtship they were married in April, 1896.
The couple was very happy as Norman pampered his wife as their finances improved. They traveled often to Europe where Edith could be fitted with elegant fashions and where she acquired a life long love of good clothing. However, despite her husband's business she always preferred small pieces of jewelry with a sentimental meaning. Galt also provided her a unique means of transportation around Washington. It was an electric completely equipped with every luxury including dual vases mounted inside and usually filled with her favorite orchids. Since Edith was the only woman in 1904 driving such a vehicle in Washington she acquired a bit of local fame. Unfortunately, the Galts remained childless after Edith miscarried early in their marriage.
In January 1908, Norman suddenly succumbed to a liver infection leaving a 35 year old widow. She inherited the jewelry store, which continued to be profitable, and with an efficient manager her supervision was minimal.
Several years later Edith befriended a young woman, daughter of a deceased friend and they took several vacations together. Then in the winter of 1914 the young woman introduced to Edith her male companion, Dr. Cary Grayson who was the White House physician. In turn, Dr. Grayson introduced Edith to Miss Helen Bones, the President's cousin who was seeking outside friends as a break from a bereaved White House after the death of Ellen, President Wilson's first wife the previous August. Miss Bones and Edith began taking regular walks in neighboring parks, and then having tea at Edith's home.
A few months later, in March 1915, after such a walk, Helen asked Edith to return to the White House with her for tea, saying that they would be alone since Dr. Grayson and the President were out playing golf. Edith was concerned that her shoes were too muddy after their walk, but Helen persuaded her to come. They were to take the elevator to the second floor family quarters, but just as they were coming out of the elevator around the corner came Dr. Grayson and the President, in golf togs and with equally muddy shoes. Edith later recalled that she was actually better dressed than the President in his casual sports clothes.
Naturally the men stayed for tea and after a change of clothes and a shoe cleaning they ended the evening with an invigorating conversation. Wilson found Edith entertaining and stimulating and though she declined his dinner invitation that day she accepted future dates. They had a great deal in common, particularly their common southern heritage.
Edith soon found that while she enjoyed the friendship of the President he was becoming more serious about her. By May, 1915 he proposed but the surprised Mrs. Galt declined saying they had known each other too short a time and that his first wife's death had been too recent.
Still, Edith said she consider his proposal, and she did for many weeks, as she continued to see Wilson and accompany him and his family group on drives, to vacation spots and even sailing on the presidential yacht. During part of the summer of 1915 when she spent time away from Wilson she realized her affection for him had grown over her absence. When she finally returned to a white House dinner she was ready to accept his proposal.
Their engagement remained private since they still had not settled on a wedding date. Edith wondered if they should wait till after the 1916 election, since there was the possibility he might not be re-elected. However, Wilson pressed her to marry sooner, saying he needed her support at that time. However, news of the engagement had leaked to Wilson's political advisors and his family and they expressed concern that a second marriage soon would threaten him politically.
At the same time there surfaced a letter from a Mrs. Mary Peck who threatened to reveal Wilson's romance with her if he married Edith. Mrs. Peck had been a female friend of both his and Ellen's and they had been correspondents but it is doubtful if there had been any affair. Wilson felt that there was nothing to her claim but feared that even her lies about her alleged romance with him might expose Edith to malicious gossip. He was willing to release Edith from the engagement.
After a great deal of thought Edith decided to proceed with the marriage despite the threat of gossip and wrote him a letter reassuring him of her position. Yet after three days when she had heard nothing she was surprised when a concerned and disturbed Dr. Grayson appeared at her door. He pleaded with her to come to the White House where the President was ill, and on her arrival she reassured Wilson of her feelings for him. At that time he showed her the unopened letter she had written, saying he had so worried she would reject him that he had become ill.
The wedding was set for December 18 and Wilson was evidently happier than he had ever been – clowning, cracking jokes and even clicking his heels in the air and singing the popular song "Oh, You Beautiful Doll."
The President and the new First Lady returned to the White House just after the New Year, 1916 where Edith was to prove a popular, glamorous and charming First Lady. Wilson found her a sympathetic and attentive listener to his concerns and problems. Then as war was declared on Germany in 1917, Edith embraced the patriotic efforts to save resources for the war effort. She ceased much official entertaining, sewed garments for the Red Cross and took her turn serving sandwiches and coffee at train yards to soldiers who were passing through.
In December, 1918 Wilson and Edith and their party sailed for Europe for a tour and for victory celebrations and then to Paris for the Peace Conference where Wilson was to present his Fourteen Points and plan for the peace treaty he hoped would establish the new League of Nations. He came down with influenza, greatly concerning both Edith and Dr. Grayson, and Edith began to hope that they could take a vacation when they returned home after the conference. However, that would need to be postponed since the Senate had to ratify the Peace Treaty, and he needed popular support for it, he decided to take a national speaking tour.
He started out in the summer of 1919 as again Edith and the doctor became concerned about his health, which was precarious at best. He so intensively believed in his cause that they knew he would never consider reducing his efforts until it became impossible to do so. He would soon find that is exactly what happened.
For over three weeks Wilson and Edith toured, as he gave speeches but he soon developed severe headaches. Eventually they became so serious that Edith finally convinced him to cut the tour short and to return immediately to Washington. Just four days after returning to the White House he collapsed with what seemed to be a massive stroke paralyzing one side of his body.
However, though his body might be incapacitated Wilson's mind was clear and he had not lost his belief in his cause of the peace treaty ratification. He knew that if the public realized how seriously he'd been stricken, it might jeopardize the passage of the treaty so he wanted his condition to remain confidential. . Thus following his instructions, all press releases about his health were uninformative and revealed nothing of his true condition. However, when people have no information, they tend to create their own ideas and concepts, and soon there was speculation and rumors about the President's condition. The most commonly believed story was that Wilson had become mentally ineffectual and that Edith had assumed total control.
Actually though Wilson's mind was entirely clear, he wasn't able to concentrate for long periods. There was speculation that Wilson might resign but a specialist suggested that might not be a good idea. First, they believed that even in his weakened condition the presidency was in better in his hands than those of anyone else. Also, if he left office it might jeopardize his recovery since he might think he would have lost the chance to have the treaty ratified.
Edith later wrote about the doctors' advice; "But recovery could not be hoped for, they said, unless the President were released from every disturbing problem during these days of Nature's effort to repair the damage done." So with only concern for Wilson in mind and with the doctors advising her she decided what matters to present to him, what to withhold and what to defer to others. As she put it: "So began my stewardship. I studied every paper, sent from the different Secretaries or Senators, and tried to digest and present in tabloid form the things that, despite my diligence, had to go to the President. I myself never made a single decision regarding the disposition of public affairs. The only decision that was mine was what was important and what was not, and the very important decision of when to present matters to my husband."
However, despite his hopes, in March 1920 the Senate defeated the treaty yet soon after the president's health began to improve, he regained some strength and even presided over some cabinet meetings. Then as they prepared to retire from office they also began to plan and build a new home in Washington. When they left the White House in March, 1921, their new home in Washington was ready.
They made plans their retirement – for Wilson to write another book or even to practice law, but he proved too weak to accomplish much of what they had planned. So they lived a very quiet life until Wilson died in February, 1924.
Edith retained the honored and special status of a former First Lady as she continued to live in Washington and receive distinguished visitors. She visited the White House regularly during the Democratic administrations of Franklin Roosevelt and Harry Truman, and then rode in the Kennedy inaugural parade in 1961. She died later that year in December, at age 90.
Though her period in the public eye and as First Lady had only been eight years out of her life, as Wilson told her when he proposed: "Time is not measured by weeks, or months, or years, but by deep human experience."