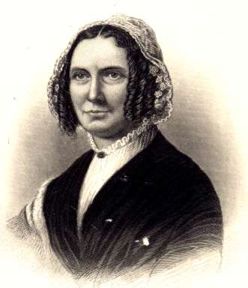 Abigail Powers Fillmore
Literary First Lady
By Anne Adams
Her husband has been not been considered a memorable president, and she is perhaps best known as the First Lady who created the first White House library. Yet no matter her husband's presidential record, when Abigail Powers Fillmore set up that library she was merely following a lifelong love of literature and books.

Born in March, 1798 in New York State, Abigail was the daughter of a Baptist pastor and from early childhood absorbed her family's love of their faith and education. Rev. Powers died when Abigail was still young and her mother and siblings moved to the country to stretch their limited funds. However, though her father had not left much in financial resources, he had left his family a large library of books. It was this resource as well as her mother's intense dedication to providing her children the best education possible that helped Abigail and her older brother achieve academic success.

With this background as inspiration, Abigail entered a New Hope, NY academy to prepare to become a teacher. As she continued her education and then began to teach, she also had a new admirer in fellow student and then her own pupil, Millard Fillmore.

His father a tenant farmer, Fillmore had come from a background of poverty. However, the elder Mr. Fillmore urged his son to attend the academy to gain an education that would give him a better life. At the time, Millard was working in a factory and could attend school because it was a slack time.

As he and Abigail began to consider marriage that winter of 1819, Fillmore grew in confidence with Abigail's encouragement. He also received a chance to study law when his father's landlord, a local judge, agreed to have Millard come work in his office. However, such an opportunity meant Fillmore would have to leave the academy and then be separated from Abigail so he could work to save money for them to marry. It would be several years before that happened.

However, Fillmore found the judge was a hard man to work for and after two years, he was ready to move on even though he had not made enough money to marry Abigail. Still wanting to become a lawyer, he moved to Buffalo and there found a position with a law firm and shortly after, with assistance from his co-workers, he was admitted to the bar. However, his old lack of confidence caused him to leave Buffalo to practice in a smaller town where he finally became financially in a position to be married. With her decision that she would assist with family finances by continuing to teach, they were married in February, 1826. As a biographer put it: "The marriage was eminently successful, for though Abigail had a resolute faith in plain and temperate living, combined with high principles, and Millard found the luxuries and style of wealth seductive, their tastes overlapped sufficiently to give them mutual understanding."

Abigail continued to teach for another two years- unusual for a married woman at the time- while Fillmore studied more law and was soon admitted to practice before the New York Supreme Court. In addition, though a Buffalo attorney offered him a partnership, he did not feel he should leave their smaller town. In 1828, Abigail gave birth to their first child Millard and that same year Fillmore was elected to the New York State Assembly. He spent the next three years traveling from his home to Albany and back. At the same time, he became acquainted with a Buffalo newspaper editor and area political leader who encouraged the young attorney to get into politics.

In 1830, Fillmore decided it was time to move his family to Buffalo, which pleased Abigail since it meant more social and educational opportunities. Now the young couple had a chance now to make new friends, and become involved socially and culturally in their new community. They also added to their growing private library. The young city was growing and developing an active social scene and Abigail's friendly warmth assured her popularity.

When their daughter Mary Abigail was born early in 1832, Fillmore had been elected to Congress. In 1836 when Fillmore was reelected, Abigail accompanied him to Washington, leaving the children with relatives in Buffalo. It was a difficult separation but Abigail coped by throwing herself into the Washington scene, attentively listening to her husband's concerns and offering useful advice. However, in 1842 he decided not to run for Congress again because he wanted to try for the Senate in 1844 but then his local political adviser suggested Fillmore should run for governor of New York. Though he was defeated - the first time that had happened- it meant he could spend more time with his family. Then in 1847, Fillmore served as New York State Comptroller but when Abigail again became active in the Albany political and social scene, she found the ceremonial and social life a chore. She had two great loves – her husband and her books, so she was happiest when occupied in those areas.

However, Fillmore became politically active again when he allowed his name to be added to the 848 Whig presidential ticket as Vice President with Zachary Taylor as President.

After their move to Washington, Fillmore found because of political jealousies he lacked influence and so he was often limited to just presiding over the Senate where the slavery question caused heated discussions. In addition, though Abigail did not relish a return to Washington because it meant returning to the social and political activities she disliked, she proceeded with moving the family possessions, including their many books. Anticipating the move was debilitating and she began to experience health problems that had been developing over the years. Bronchial problems and headaches caused her to eventually return to Buffalo and in 1850, she was there when her husband became president as President Taylor died on July 9.

As Abigail and her daughter returned to Washington, Fillmore began his new duties. As often as her health permitted Abigail served as official hostess, and daughter Mary Abigail filled in when her mother could not. One reason Abigail found the official receptions difficult was because an 1842 ankle injury that had healed improperly and prevented her standing for long periods for receptions. Because of she limited her social appearances Abigail did not make a memorable impression on social commentators of her time. Some even felt she was not of their level and one even mentioned, "It is not good form to be motherly to her guests." Instead, she was content to spend her time in the White House library, receiving intellectual visitors and playing the piano. During their married life, the Fillmores had acquired a library of more than 4000 books, an unusually large number for the time and Abigail found immense pleasure in any addition to the collection. Therefore, she was shocked upon entering the White House that there were no books in the presidential mansion- not even a Bible. With a congressional appropriation, Abigail began purchasing volumes for the first White House library, including maps, reference books, books or history and a few novels. She established the library in a second floor sitting room. It was a room where she could find refuge from her reoccurring pains and the pressures of her position.

Other improvements were a cast iron cooking stove to replace the open fireplace previously in use, as well as the first presidential bathtub.

For Fillmore as president it was a difficult political time with slavery as a very divisive issue and so any decisions the president made would be unpopular on one side or the other. Besides Mary Abigail serving as hostess, their son Millard Powers, an attorney in his own right, became the president's private secretary.
As his presidential term ended, Fillmore decided to return to Buffalo to return to his law practice. With a new president to take office a month later, in February, 1853 Abigail finished packing their belongings to be forwarded to Buffalo. The plan was that after the Pierce inaugural she and Fillmore would join a party of friends on a tour of the South. She was also pleased because she was escorted to the Pierce inaugural by two favorite authors – Washington Irving and William Makepeace Thackery.
At the inaugural on March 4, 1853, Fillmore, Abigail and the other guests stood in a raw cold wind. As the wet snow accumulated on the Capitol steps the officials that gathered for the ceremony. Abigail's feet were soaked and she developed a cold and then pneumonia. Within three weeks, she was gone, leaving a grieving and lonely Fillmore to return to their Buffalo home alone. Mary Abigail accompanied him but she herself died in a few years. However, within a few years Fillmore had remarried.
~*~

A native of Kansas City, Missouri , Anne grew up in northwestern Ohio , and holds degrees in history: a BA from Wilmington College, Wilmington , Ohio (1967), and a MA from Central Missouri State University , Warrensburg , Missouri (1968).