Inspirational Stories of Women
Who Made a Difference!

March 7, 2006
---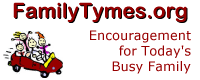 ---
Welcome to History's Women!

March is Women's History Month. Women's history is our nation's story; the story of how women built communities and inspired and nurtured dreams and how they will continue to do so.

So, especially for the month of March, remember to celebrate the great women in your life!

Enjoy the issue!
Patti
---
If you have trouble reading this issue, you can view it online.
---
"None who have always been free can understand the terrible fascinating power of the hope of freedom to those who are not free."

~Pearl S. Buck

---
Mary Bowser
From Slave to Spy
1839 - ?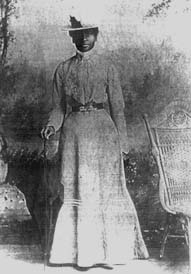 As the Davis children entered the dining room for dessert, smiles and gentle laughter replaced the adults' frowns and talk of war. The new servant, Mary, took the opportunity to glance at a paper one of the officers had carelessly placed on the side table. There were notes from the latest battle. As she scanned the page, she memorized every word! She had listened to the war talk as she served the platters of Virginia ham, roast turkey, and oysters.
Suddenly Mary got that prickly feeling you get when you know someone is staring at you. She turned and saw Mrs. Davis frowning at her. Mary calmly but quickly picked up the bowls of pudding, bowed slightly to the Confederate First Lady, and served dessert to the eager children.
Her heart skipped a beat as it always did when she sensed the danger of being caught. Still, her disguise was perfect. No one would expect a former slave to be able to read, let along understand anything about troop strength and war strategy.
* * * * * * * *
Mary Bowser was a former slave, but she was not uneducated. Born in 1839, she grew up in the Van Lew household. When Elizabeth Van Lew returned home from school in Philadelphia, there were lively discussions about slavery. Elizabeth spoke out against it. Mrs. Van Lew quietly agreed with her daughter. Unfortunately, Mr. Van Lew didn't agree, but he treated Mary and his other slaves with respect.
After Mr. Van Lew died, Elizabeth freed all their slaves. Then she asked Mary the most startling question: Now that Mary was free, would she like to go to Philadelphia to attend school as Elizabeth had done? Though Mary could not go to the same school as Elizabeth, she was able to attend a Quaker school for black students. Philadelphia had a strong anti-slavery spirit.
Many of the other freed slaves decided to stay on and work for Elizabeth. Mary may have hesitated to leave her friends and relatives, but once she got to school, her quick mind absorbed all the Quakers could teach her. She had a photographic memory, which not only helped with her studies, but eventually made her a great spy.
When Confederate President Jefferson Davis moved to Richmond, he and his wife brought a few of their slaves with them. They needed additional help in the Confederate White House as they had young children and all kinds of social and political obligations.
Elizabeth heard Mrs. Davis wanted more household workers, so she offered to find someone for her. Then she hurriedly sent word to Mary in Philadelphia: Would Mary come back to Richmond and take the position—as an undercover spy?
Mary agreed to return.
Working in the Confederate White House, she was in a great position to get secret military plans. When the baker, another Union spy, made his deliveries, Mary passed the information to him. He was amazed by her memory!
Mary also met with Elizabeth. She'd set out, walking quickly, glancing over her shoulder to see who might be following her. They had hurried conversations. It must have been a relief to Mary to hear how the war was going from the Union's point of view.
When two of the Davis family slaves ran away, Mary was glad that they would find freedom. She knew what it was to be free, but even if they had asked her to join them, she wouldn't have gone. She would stay in Richmond until the war was over, doing everything she could to bring freedom to all slaves.
Over one hundred years later, in 1995, the U.S. Army inducted Mary into the U.S. Army Military Intelligence Corps Hall of Fame for her success "in a highly dangerous mission. . . .She was one of the highest placed and most productive espionage agents of the Civil War."
Ryan Ann Hunter is the pen name for Pamela D. Greenwood and Elizabeth G. Macalaster, who write nonfiction for all ages. Their award-winning books include Into The Air: An Illustrated Timeline of Flight from National Geographic and Robots Slither, a Book Sense Best Children's Book.

"

Mary Bowser: From Slave to Spy " is an excerpt from their book In Disguise! Stories of Real Women Spies. Struck by the courage and conviction of these women, they wanted to share stories about their silent service for the cause of freedom.

Learn more about Ryan Ann Hunter at www.ryanannhunter.com


To order a copy of In Disguise!

for $13.50 (including shipping) click here.
---
FEATURED BOOK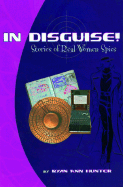 In Disguise
Stories of Real Women Spies
By Ryan Ann Hunter
$13.50 (includes shipping)
This collection of profiles features 26 women who spied in wartimes, from the Anglo-Dutch Wars in 1640 to the Cold War era. Harriet Tubman and Belle Boyd are discussed in the Civil War chapter. Singer Josephine Baker is included for her participation in the French Resistance. Also featured are many lesser-known women such as Leona Vicario Roo, who helped lead Mexico's revolution against Spanish rule, and France's Marthe Richer, a double agent during World War I. An introduction to each chapter briefly describes the conflict and the nature of the divided loyalties. Individual stories are prefaced by a small photo or drawing and a bit of first-person narration or fictionalized dialogue. Readers will be intrigued by the bravado shown by women who risked their lives relaying vital information to their cause and were often sentenced to death for treason. Spy trivia and craft activities are interspersed throughout.

Today's biography is taken from this book. Pick up a copy for $13.50 (shipping included) by clicking here.
---
History's Women Newsletter is for informational purposes only. Patricia Chadwick in no event is to be liable for any damages whatsoever resulting from any action arising in connection with the use of this information or its publication, including any action for infringement of copyright or defamation.
---
SPONSORSHIP OPPORTUNITIES
History's Women is part of a family of ezines. All are opt-in and sponsor supported. For information on how your business could benefit from sponsorship send an email to: mailto:advertising@historyswomen.com with "HW Sponsor" as the subject and we'll provide the details.
---
History's Women is a free weekly newsletter for those interested in inspirational stories of women who made a difference in their world. The content of this newsletter is copyrighted by Patricia Chadwick (c)2006 unless indicated otherwise. All rights reserved worldwide. Reprint only with permission from copyright holder(s).
Permission is granted to distribute the contents of this newsletter for personal use as long as credit is given with a link to our page at http://www.historyswomen.com and the entire newsletter is included. Most articles are available for free reprint in your newsletter. Email info@historyswomen.com for details.
---
Patricia Chadwick
Founder & Publisher

History's Women
A magazine highlighting the extraordinary
achievements of women throughout history.
http://www.historyswomen.com
mail to:info@historyswomen.com
---
SUBSCRIPTION INFORMATION
To SUBSCRIBE to this FREE weekly newsletter, send your request by email to: historyswomen@pcpublications.org or you can sign up at http://pcpublications.org/subscribe.htm

To UNSUBSCRIBE send your request to:
unsubscribe-historyswomen@publications.org or you can unsubscribe at http://pcpublications.org/subscribe.htm.

If you have a problem subscribing or unsubscribing send an email to patti@historyswomen.com and a real live human being will try to solve the problem.

Thanks!